In Year 6, our children enjoy exciting lessons which are both stimulating and engaging. The photographs below show examples of children's learning.
Mayan Mayhem!
Recently, the children participated in a Mayan Drama Workshop (delivered by an external company); made and designed their very own Mayan clay masks; and even cooked and prepared a traditional Mayan cocoa drink.
A fantastic WW2 trip
Year 6 thoroughly enjoyed their recent visit to Carlisle's Military Museum and participating in an exciting WW2 workshop at Tullie House. Enjoy the slideshows of photographs below.
Our very own VE Day Party
The Year 6 children, staff, parents/guardians and other relatives enjoyed their very own VE Day Party. Families baked cakes and biscuits which they shared and enjoyed with plenty of tea and coffee. Music played throughout the celebration but it didn't drown out the sound of conversation and laughter created by all generations of families. The children's fantastic work was also on display for people to read and savour. A whole-group, traditional tea-dance sing-along and dance concluded the morning and this event marks a fitting end to the children's topic of WW2. Enjoy the photographs below of the celebration:
A heart dissection in action
Year 6 were fascinated when dissecting a pig's heart. Children had the opportunity to explore the different chambers of the heart as well as identify the different parts of the heart they had previously learnt. Many brave children also held the dissected heart and its accompanying parts. This activity forms part of Year 6's 'A journey through the body' topic, in Science.
Year 6's 'Great British Sandwich Off!'
Year 6 have thoroughly enjoyed a day in the 'Bake Off Tent' creating healthy sandwiches. The children designed a nourishing sandwich, which was judged based upon its taste, balance of ingredients and presentation. The standard was unbelievably high and the judges (and Year 6 staff) were amazed at the children's creations. This event forms part of the children's learning in Science and Design Technology.
Well done to the winners and every child's success was celebrated in assembly. In the meantime, please enjoy the photographs (below) of the children's outstanding creations.
Macbeth
"Double, Double, Toil and Trouble..."
Year 6 participated in a thrilling Macbeth Drama Workshop, delivered by One Day Creative. During the exciting workshop, the children learnt lots of new drama skills as well as discovering the key themes and main plot of this Shakespearean play. The children were highly praised for their attitude, skill and understanding.
A battle on the school yard!?!
Year 6 enjoyed re-enacting Scene 1 from Macbeth as the Scottish and Norwegian armies battled on the heath-land. The children then produced impressive descriptions based on this gripping, opening scene.
Viking Shields
Year 6 have been busy designing and then making their very own Viking shields. The children have worked very hard on these artistic pieces and their efforts have certainly paid off. The shields look very authentic and the children have enjoyed learning about the armour and weapons Viking warriors used.
Viking Longboats
Amazing Viking Longboats were made yesterday morning. The children's designs were very impressive and their collaboration and determination resulted in very effective and realistic creations.
Wheelchair Basketball
Children in Year 6 thoroughly enjoyed the opportunity to participate in wheelchair basketball today. Wheelchair basketball World Champion Nat revisited us and offered expert coaching sessions to all of Year 6. The children had a fantastic day.
Marriage in RE
Year 6 enjoyed listening to Lucy and Lynn, who came into school this afternoon to deliver a special workshop on marriage. The children were engaged throughout, asked thought-provoking questions and made beautiful bunting reflecting the themes of a Christian marriage. The children have been comparing marriage in different religions in RE, this term.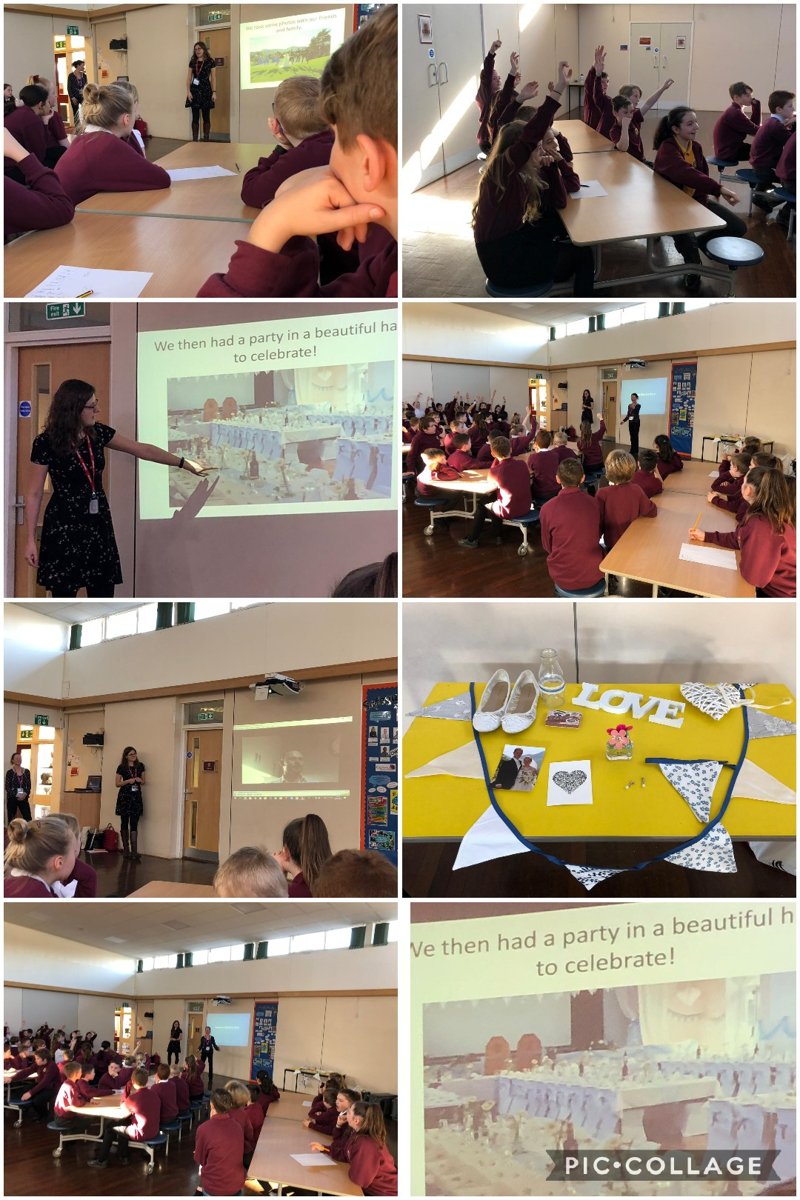 Active Mathematics
Throughout the year, the children in Year 6 enjoy a wealth of active Mathematic lessons. Many of these take place outside of the classroom and often involve collaboration.