Friends of Fairfield is the Parent Teacher Association (PTA) for Fairfield Primary School. Our mission is to ensure all of the young people at our school realise their true potential by helping to create an inspiring environment for both the children and staff on a daily basis. Whether you are a pupil, parent, teacher, guardian, family member, neighbour or local business, you are a part of our community. You can support our school and help us to raise vital funds.
If you would like to know more and get involved please:
Follow our page on Facebook @FriendsOfFairfieldPrimary
Join our Committee meetings which take place every half term. We welcome fundraising ideas, offers of support, or if would just like to come and listen in. Dates of this year's meetings: Wednesday 10th November 2021, Wednesday 19th January 2022, Wednesday 2nd March 2022, Wednesday 27th April 2022 and Wednesday 15th June 2022.
The Friends of Fairfield committee oversee the charitable aspect of our PTA. We work in partnership with the school to create a yearly fundraising plan that is aligned to their objectives. We coordinate regular events such as the Summer and Christmas Fayres alongside providing support to both school and community fundraising events that help raise funds for our charity. Our Committee members are:
Chair: Becca Dunlop
Staff Representatives: Chris Steele and Jordan Gale
You can contact the Committee at PTAchair@fairfieldprimary.co.uk
If you have an idea for an event please complete and submit the form below (PDF and Word versions available):
Event Form
Friends of Fairfield: Allerdale Lottery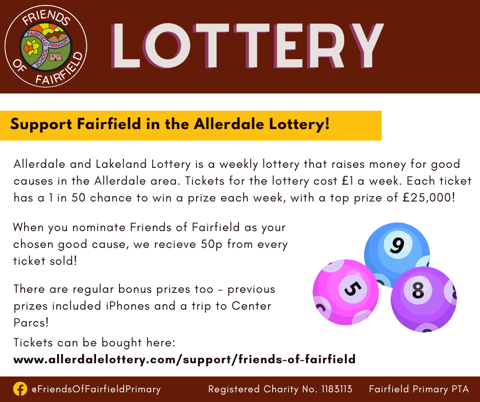 P.T.A. Newsletters
PTA Minutes
PTA AGM Records
PTA GDPR Policy